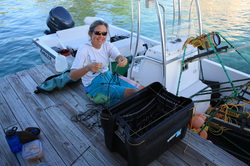 The weather held and we were able to night fish, tagging a number of Caribbean reef and blacktip sharks. The tags will give us information on the sharks' movements around the islands to build a larger picture of where the sharks are and when. Despite numerous attempts with all the right conditions, there were no tigers! However, this adds to our knowledge of their movements in relation to Stingray City. Many thanks to new volunteer Ian Kolbaba for his help!
The work on the behaviour and welfare of stingrays at Stingray City also continues, with Jane Ebert-Haakonsson working with us on the project for her MSc thesis.
We had good discussions with our partners, particularly the Dept. of Environment (DoE), on how they would like to go forward with the Cayman Islands Shark Initiative. The DoE do an amazing job in keeping the marine environment as safe and healthy as possible, despite the huge demands on it. Our shark conservation beer (1st ever!) developed and brewed by Caybrew Ltd. is selling well and the project receives 5 cents on every can or bottle sold. Save Our Seas Foundation's support has been fundamental to the initiative.