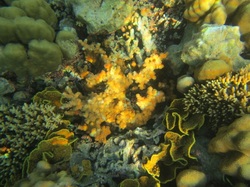 Rupert has been very much engaged in his position as Corresponding Secretary for the International Society for Reef Studies. A particular focus has been in restoring the newsletter "Reef Encounter".

Oct-Dec 2014: Saud KAU Conservation Project

Rupert went out to Jeddah to continue work on the Coral reef Conservation project that he leads as Research Professor of Marine Conservation, King Abdul-Aziz University, Jeddah, Saudi Arabia. He has set up a really interesting set of experiments on corals at different sites along the Jeddah coast, subject to a variety of environmental influences.

Martin Eaton, a former Queen Mary University MSc student of Rupert's, came out as an intern to work with Rupert on the project. Martin took over from Adam Porter who is now pursuing a PhD at Exeter University.

Mauvis also came out and really enjoyed the camping trip near Al Qunfidah, south of Jeddah and north of Yemen. Together with colleagues from King Abdul-Aziz University, they surveyed coral reef habitats offshore. Some of these are spectacular, with a couple having 100% coral cover. What was not beautiful was the density of plastic litter in this remote area, where even digging down to sink tent anchors, there were layers of plastic. The weather went from very high winds with tents rolling along the dunes to rain, the latter being quite unexpected and leading to a drenching all round.

ICMERS Conference on the Red Sea Marine Environment
They then went on to the "International Conference on the Marine Environment of the Red Sea", sponsored by ICMERS. It was a wonderful opportunity to learn about the extreme marine environment of the Red Sea and how adaptations to the tremendous fluctuations of temperature and salinity allow organisms to survive. It was a great chance to catch up with friends and colleagues and to meet new ones and exchange ideas and information. The green coffee and dates offered were very delicious! The experience was novel for Mauvis as the conference, held at King Abdul-Aziz University, was segregated with women upstairs and men downstairs. It was a shame not to be able to talk with male colleagues.

Darwin Plus grant awarded for Cayman Islands project

Great news to return to from the desert field site near Al Qunfudhah to Jeddah. We were awarded a Darwin Plus grant for "Sustainable Management of threatened Keystone Predators to Enhance Reef Resilience"! The project begins April 2015 and runs for two years. Our partners are the Cayman Islands Dept. of Environment, Guy Harvey Ocean Foundation, CayBrew Ltd. (makers of our award winning Whitetip Lager), Nova Southeastern University and Bangor University. We are very excited and looking forward to beginning the programme.