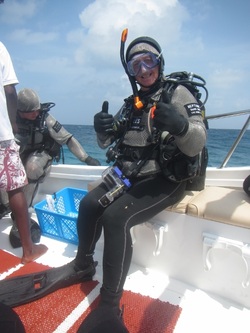 Jan-Feb 2015: The marine reserve of D'Arros Island and St. Joseph's Atoll, Amirantes Plateau, the Seychelles

Rupert and Mauvis went out to continue the work on the coral reef environment around D'Arros and St. Joe's for Danah Divers. An amazing area with so much marine life. Martin Eaton came out as an intern, which was great as he was a real help in Jeddah.

They concentrated on the larger fish associated with the reefs, particularly shark, grouper and snapper and had seven species on sharks on the dive surveys. The BRUVS (baited remote underwater video stations) provided good data on the fish, as well as some lovely clips of octopus competing at the bait bag. Mind you, they had to wait some time to even begin as the weather was atrocious with very high winds. Mauvis took a video of the floating pontoon snaking violently while the team tried to load a boat with gear. Rupert had his first dive with bull sharks (kitted up in the photo here) and really enjoyed the encounter.

The Danah Divers with Chris Clarke at the helm are a great bunch and a real help in getting the work done. Chris Boyes has settled in as Manager for the Research Centre and is very knowledgeable.