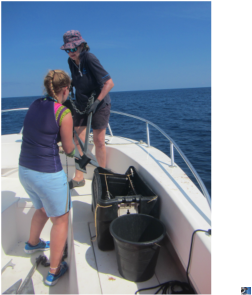 Back in the warm seas of Grand Cayman surveying for sharks, grey & mutton snapper, and tiger grouper. To compare with data we have been collecting over time, we are continuing our standard survey methods of BRUVS (camera traps), scientific long lining and underwater visual census using a Distance sampling method. Our partners at the Cayman Islands (CI) Dept. of Environment (DoE) have been out with us in the field at our sites around the island. It's off to Little Cayman for the month of November to survey and then return to continue on Grand Cayman. Intern Cat Millar (helping with anchor in photo) has returned to help us for this season, which is great!

I presented the Darwin Plus project to the CI National Conservation Council and the Watersports Association, as well as to representatives visiting from the Pew Charitable Trust. The CI Angling Club will be next. Fishermen have not been out very much and so no samples as yet. We are going out tomorrow with the Mark Orr from the DoE to try our luck so we can tag our target snapper species. Just hope that the weather doesn't play havoc with the North Sound! We have been dodging about Grand Cayman to avoid seas too rough to work on a shark in. It is less critical for our BRUVS and we had a wonderful surprise this week. I was analysing one of the BRUVS videos and a shark came around a coral head. There was something odd about that Caribbean reef shark......because it was a great hammerhead! He was a lovely young adult male and checked out the BRUVS twice. I have always wanted to see a hammerhead and wonder if this is the closest I'll come to doing that.

A great team effort has produced two leaflets explaining the project and asking fishermen & anglers for samples and divers & snorkelers for sightings. We are really pleased with the results and have begun to distribute them. The media have been interested in the project and we have had several spots on television and radio to raise awareness of what we are working towards. Next up is producing a booklet for the fishermen with information on sharks. Meanwhile, back to a hot computer crunching numbers on whether shark numbers are down compared to previous years. It certainly feels like they are at the moment!

Do check on updates on our Facebook sites "Marine Conservation International", "Sharks & Cetaceans: The Cayman Islands" and the CI Dept. of Environment website http://www.doe.ky/. We are keen to hear any helpful comments or questions on the project.