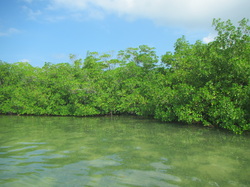 It has been a tough week of boatwork for the team as we have been trying to be ahead of the stormy weather coming in. Everyone is tired, but we completed most of the sites we set out to survey.
The day begins with checking weather forecast sites (and trying not to just pick the one we like!), putting the gear together on the boat, launching off the DoE dock, picking up tanks for the dives and then heading out to the site for the day. We deploy the BRUVS (camera traps) first, then do a Distance and a band transect underwater survey. The scientific long line is then set and the hydrophone is in the water to pick up any tagged sharks or fish that might be around. We pull in the long line, work up any sharks, snapper or grouper that we catch before releasing. Then pick up the BRUVS and head back to the DoE house. We wash down the boat and the gear, dry and store the gear, then head up to download the cameras and recharge their batteries. Then a shower and something to eat! Early to bed, our eyes are usually shut before we know it.
Little Cayman is lovely, one of our favourite spots is east South Sound with the mangroves and nurseries. We have caught three species of shark here, all new and shiny young. We'll be on the lookout for sheltered spots to continue surveys next week, but will also spend a fair amount of time on data input and cleaning, and analysing the BRUVS videos. This is always exciting as you never know what might turn up. We learn a lot about shark behaviour from the videos and are keeping a photo-identification catalogue of individuals.