Make A Difference
Specialized equipment and training for scientific programmes is expensive. As an independent scientific organisation, Marine Conservation International needs support in pursuing its research. Make a difference by contributing to projects undertaken by Marine Conservation International. Sponsor a Satellite Tag to track a Basking Shark.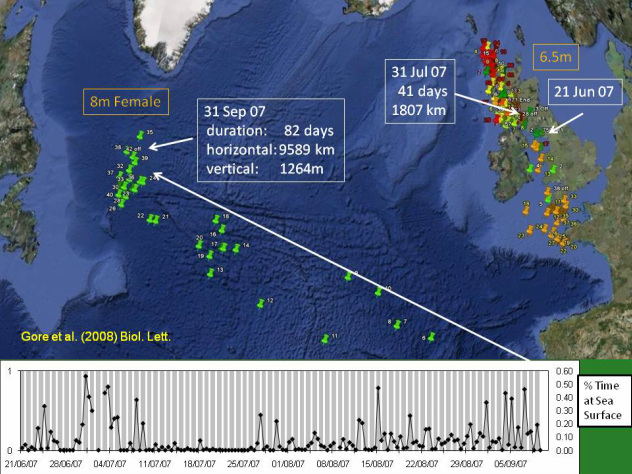 Support Project Basking Shark
Despite their very large size, we still know very little about the movements of Basking Sharks. This is important as they cross boundaries from protected areas to areas where they can be hunted for their fins for the Asian restaurant trade in shark fin soup.
Satellite tags provide detailed information on the depth and temperature ranges the sharks use and locations. This gives us information on areas the shark traverses - both horizontally and vertically - for the period of time before the tag pops off the shark as programmed.
Once the tag has popped off, the data are relayed to an Argos satellite overhead and then to us. At this point, we can let you know where the shark moved. and after some analysis, we can tell just what the shark has been doing.
While we have been able to fund ten tags to date, more are needed to provide more data on the scope of large and small, male and female Basking Sharks behaviour and whether they use the same areas or at the same times or not.
By sponsoring or contributing to the sponsorship of a satellite tag for tracking Basking Sharks, you will play a key part in the conservation of this iconic shark species.


---